With the growing interest in aftermarket radiators, performance and "aluminum" appear to be interchangeable terms. The Griffin radiator in our 1999 Jeep XJ Cherokee is just one example, there are many. Even OEMs have turned to aluminum when high performance efficiency is necessary.
The 1999 Jeep XJ Cherokee with aftermarket performance radiator. Note the stiffer aluminum necks on these radiators. Gear type hose clamps work much better with these radiators.
Aluminum radiators have aluminum necks. These necks can be stiffer and thicker walled than the traditional brass and copper radiator necks. While OEMs often use spring clamps (faster on the assembly line!) to secure hoses to the brass/copper radiator necks, this kind of sealing may not be suitable for these rigid aluminum necks!
We discussed OE clamps during the Griffin aluminum radiator installation. In the time this vehicle has been in service, every OEM spring type clamp has been replaced with a high quality gear-type, adjustable hose clamp! Weeping and seepage occurred with the OEM spring clamps—especially with the range of temperatures experienced during the winter at our area...Overnight temps can drop to the 'teens or even lower, while a thermostat temp of 195-degree F occurs each time the engine warms up!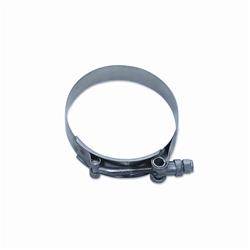 At left is a quality worm gear hose clamp that works better with aluminum radiator necks...Middle is a custom T-bolt clamp that has a self-locking nut and can be readjusted as necessary. At right is the most primitive of OEM type clamps that do not work well over time. Tension of clamp at right is preset and often loosens with heat cycling over long periods of time or from recession into the aging hose. Always re-torque the worm gear clamp after heat cycling for a short time. You can also re-torque the clamp in the middle, a high performance Mishimoto stainless steel offering from Summit Racing.
The more rigid aluminum radiator necks call for secure clamp loads. Tension constants are limited on spring type hose clamps. They can only hold to the preset tension at a given diameter. Making matters worse, heat cycling affects any metal, and this includes spring clamps. Spring clamps tend to tension less after higher mileage use.
So, if you're switching to an aluminum radiator, or if your OE radiator or other hose necks are stiffer aluminum, consider using gear type or quality adjustable hose clamps. Make certain that you recheck the tension on these clamps after the hoses have heated and cooled for a number of cycles. Once these clamps are at the proper torque setting for a conformed hose, they will hold that setting for a very long time.
Moses